I'm a sucker for red-carpet fashion. And there's no denying that one of the most stylish actors — who's currently dominating the game — to walk the red carpet is Pedro Pascal.
So, without further ado, here are 18 outfits that prove that Pedro Pascal had some of the best moments on the red carpet:
1.

At the 2019 Met Gala at the Metropolitan Museum of Art in New York City, Pedro wore a beige Burberry tuxedo, and he looked like a nice, tall iced Frappucino.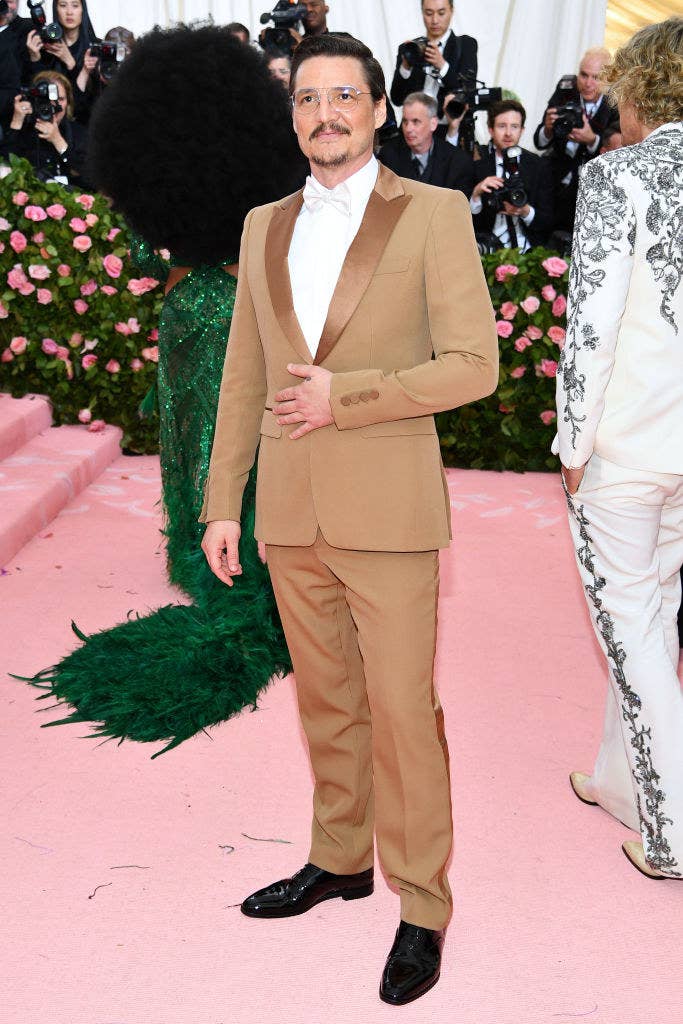 2.

Check out this "meet the parents" look in Gucci at the Los Angeles premiere of Season 3 of The Mandalorian at El Capitan Theatre in Los Angeles, California.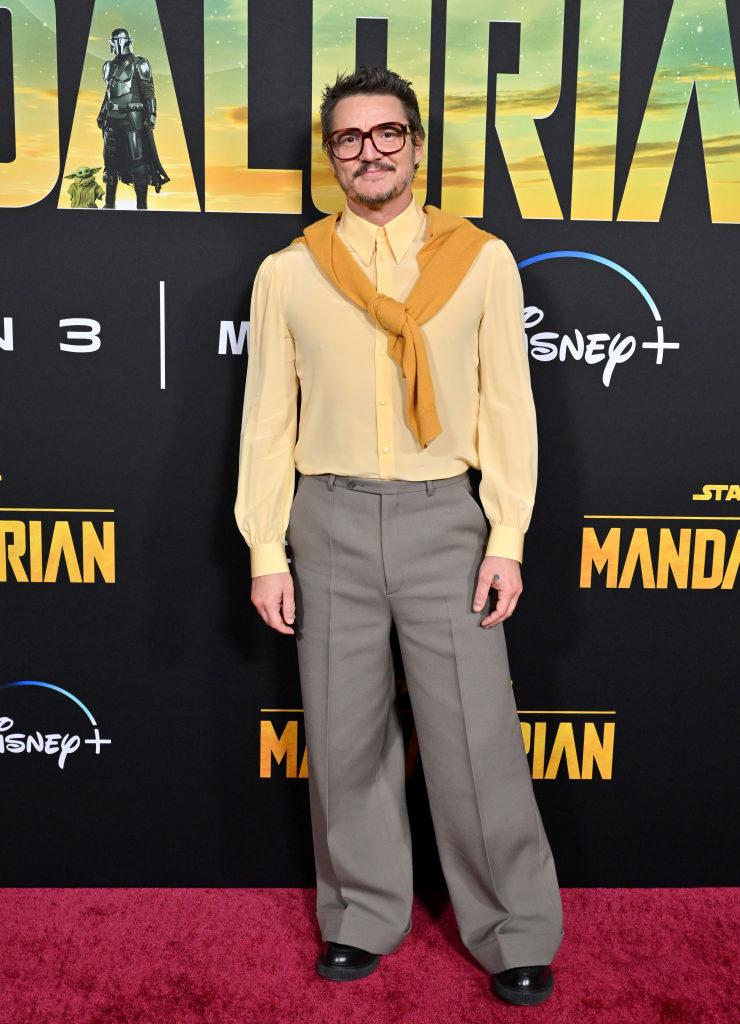 3.

I stared at this picture for 15 minutes wondering why no one offered him a lint roller. But it's just sparkly fashion at the Los Angeles premiere of HBO's The Last of Us at Regency Village Theatre.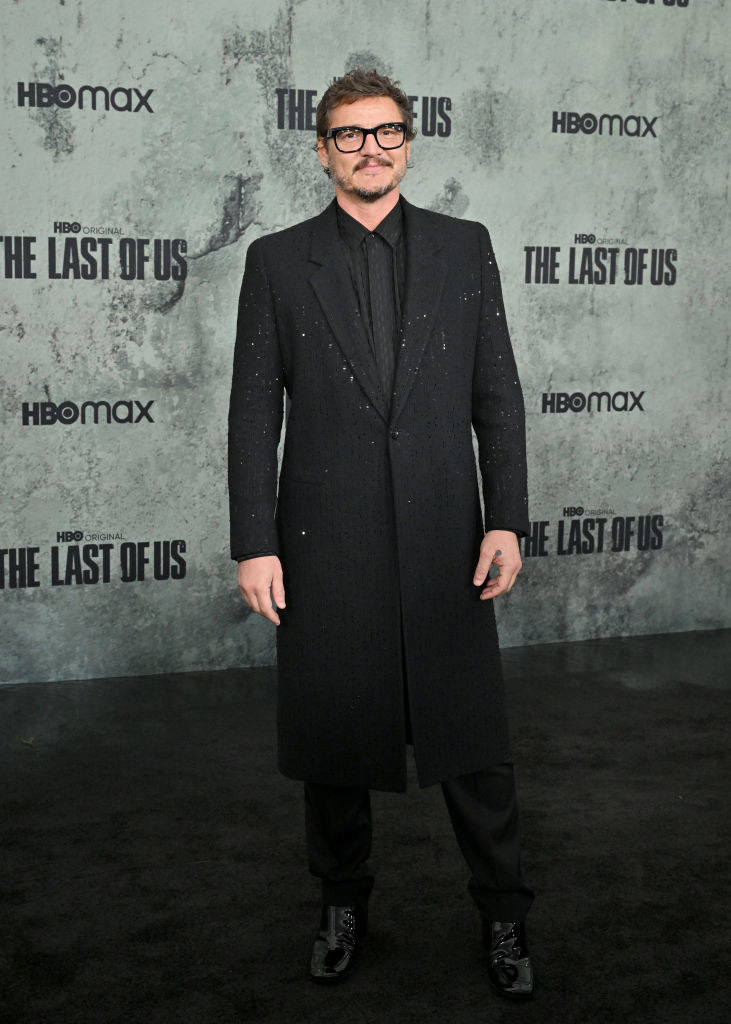 4.

Pedro served "shaken, not stirred" class in a white single-breasted jacket and black pants at the Argentina, 1985 red carpet at the 79th Venice International Film Festival.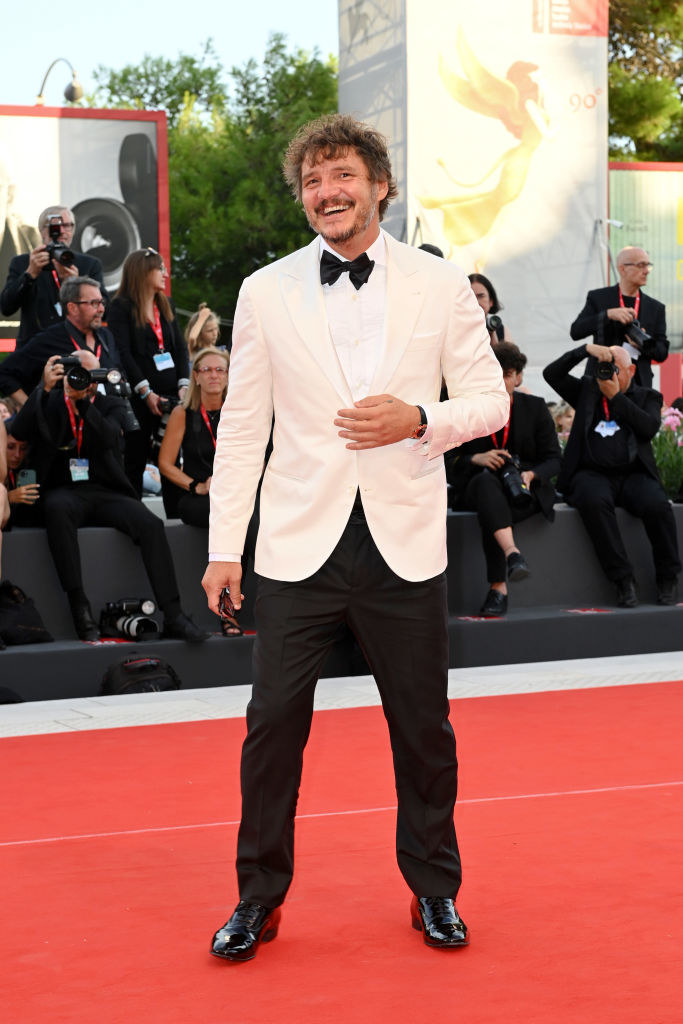 5.

At the New York premiere of The Unbearable Weight of Massive Talent at Regal Essex Crossing in New York City, Pedro showed us the unbearable weight of being the best dressed in an all-white Fendi number.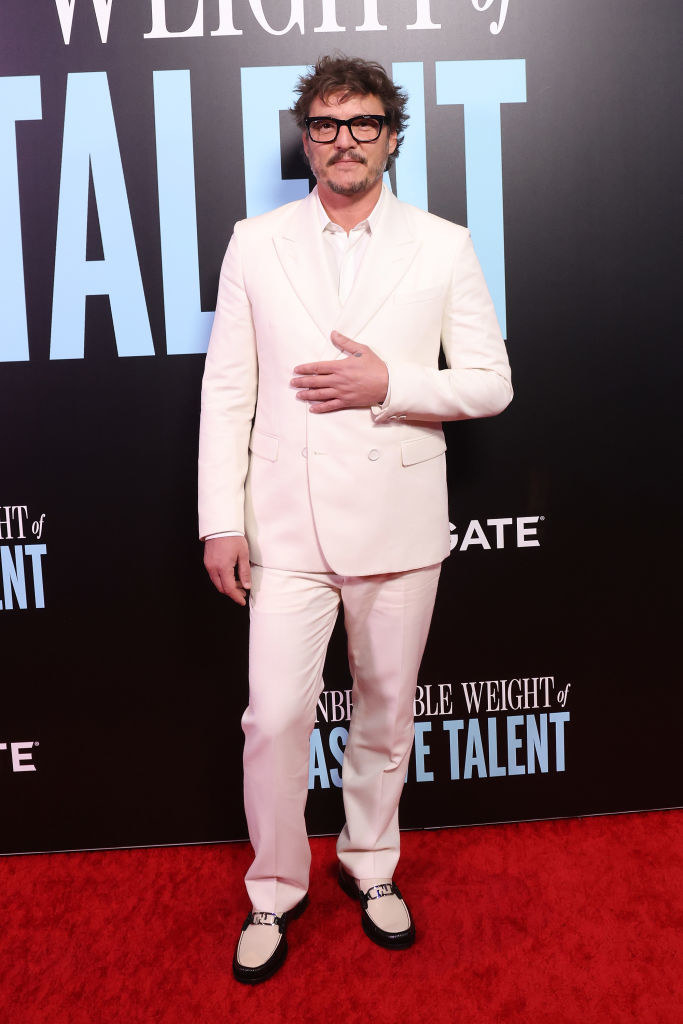 6.

One of my favorite looks is Pedro at the Hollywood premiere of Star Wars: The Rise of Skywalker in this long coat that immediately takes me back to the good ol' days of Oberyn Martell swooning us on the Dorne peninsula.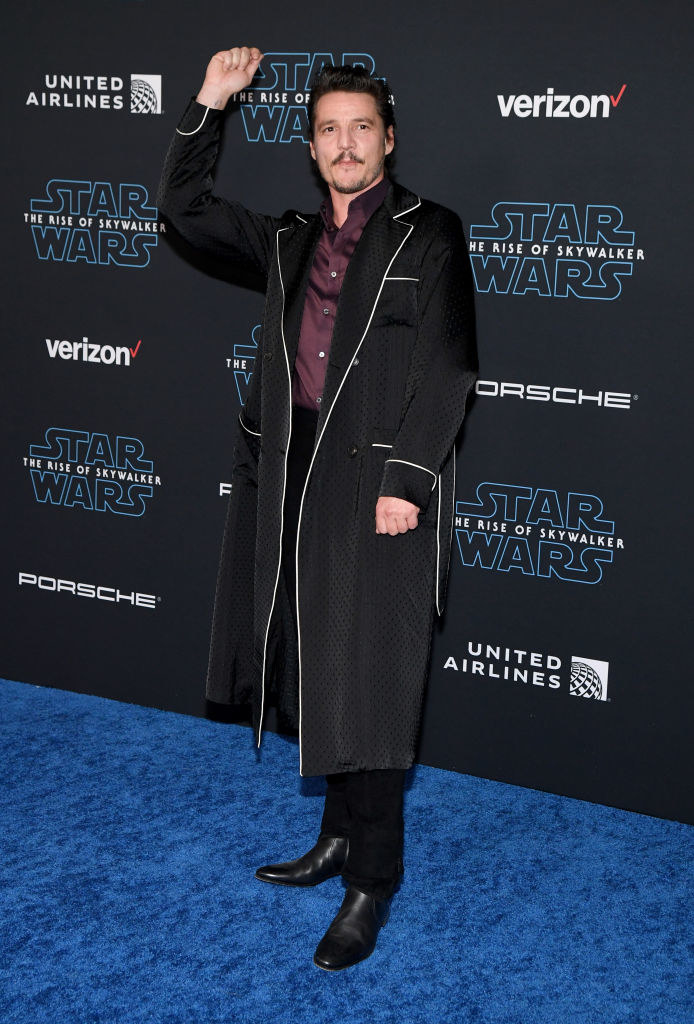 7.

At the Texas premiere for The Unbearable Weight of Massive Talent at the Variety Studio, Pedro wore a cream Bodil shirt with embroidery with a woven belt and white Adidas shoes.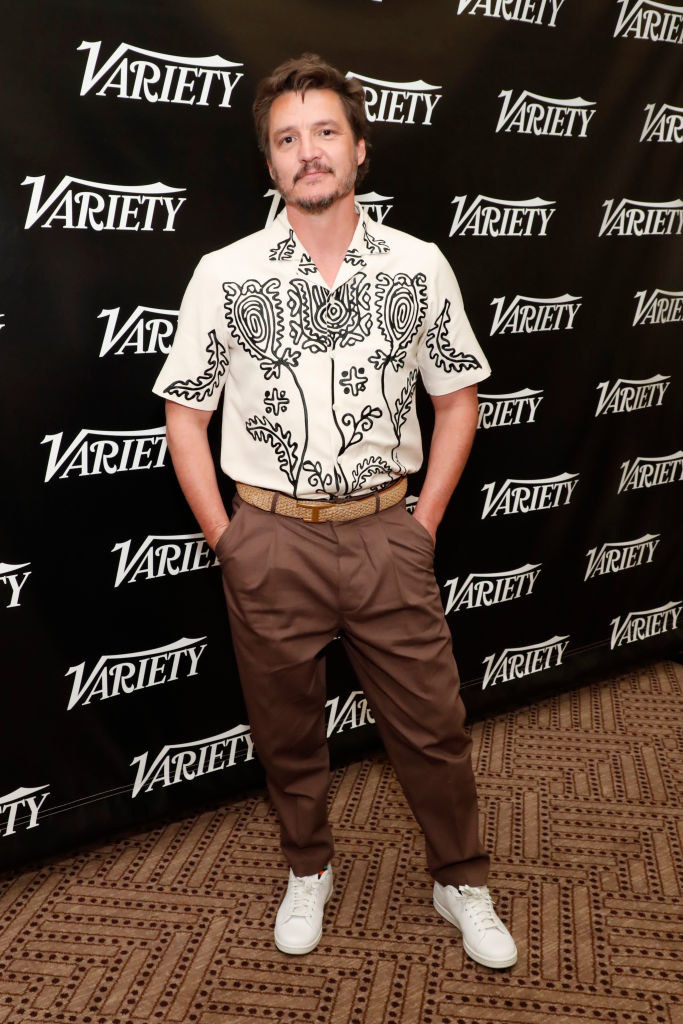 8.

For the New York premiere of Glass at the SVA Theater, he donned a fitted leather jacket, denim shirt combo, and fedora — making an excellent case for being cast in the Indiana Jones franchise at some point.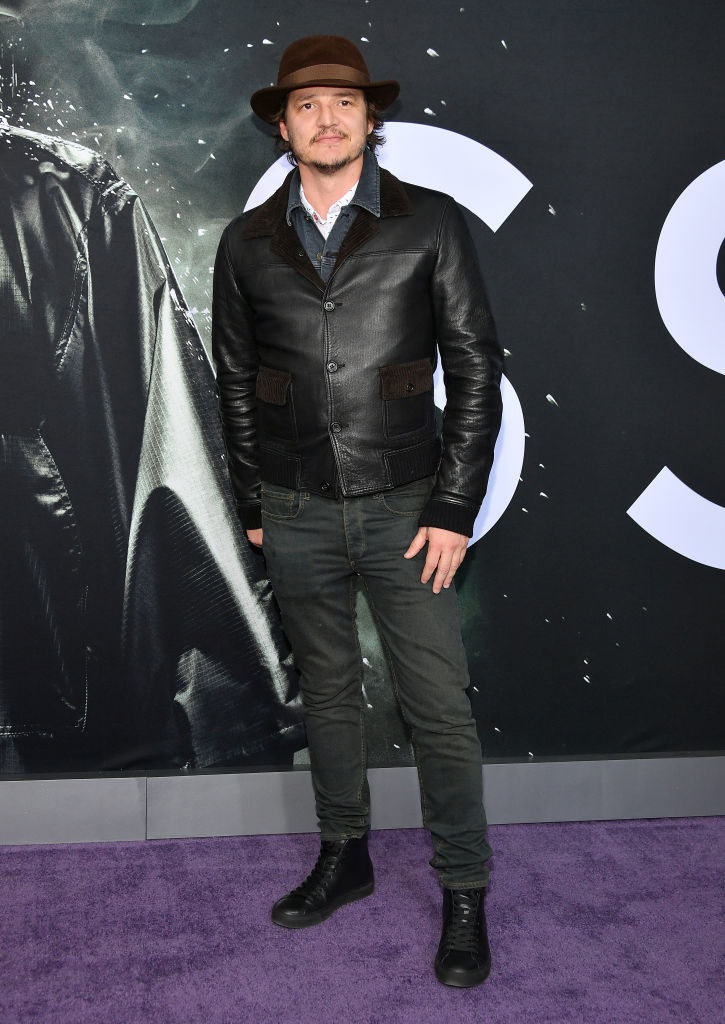 9.

For the D23 Disney+ showcase at the Anaheim Convention Center, he rocked this festive floral shirt, perfect for the happiest expo on earth.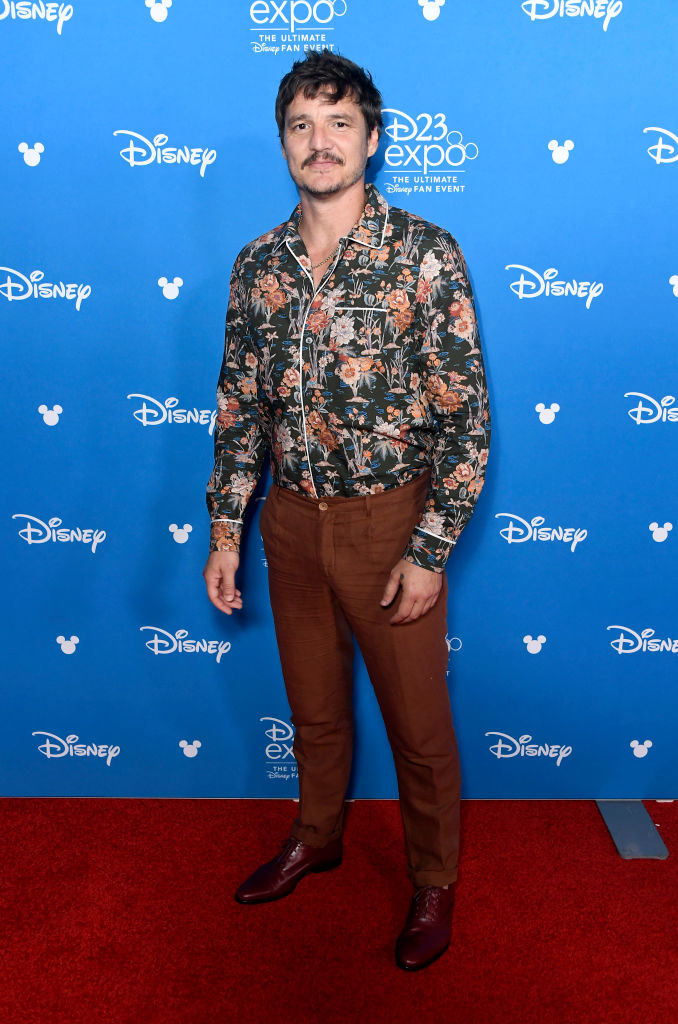 10.

At the Los Angeles premiere of OWN's David Makes Man at NeueHouse, he kept it simple and sweet with an Acne Studios pink and ginger orange "vacation shirt."
Not a fashionable red carpet look. I just wanted to take a moment to appreciate the friendship of these two leading men.
11.

Pedro wore this casual "stoner bro" look at the 2019 Outfest Los Angeles LGBTQ Film Festival screening of Sell By at the TCL Chinese Theatre.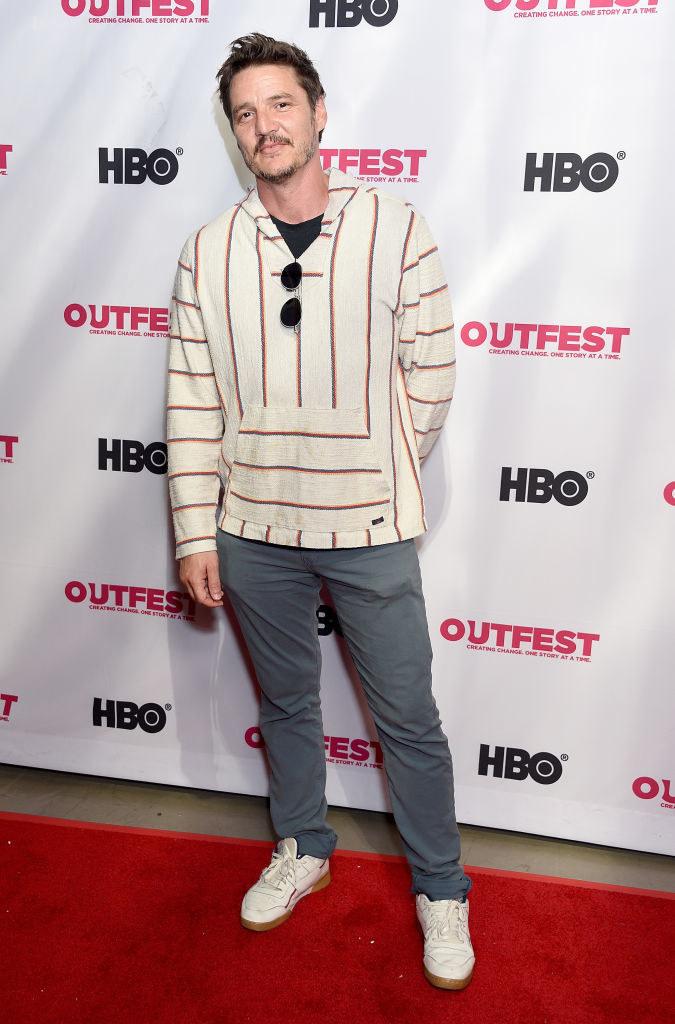 12.

At the New York premiere of TNT's I Am the Night, he showed up in this cozy little YMC Wolf Cardy Zip Wool Sweater.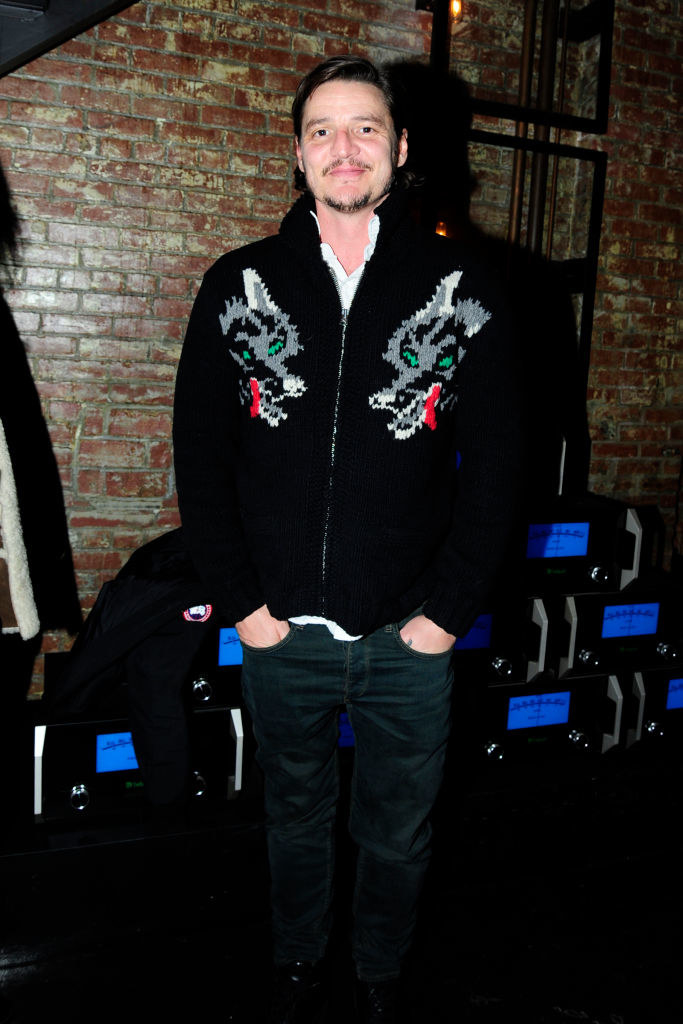 13.

For the opening night of The Substance of Fire in New York City, Pedro showed he could fit in with the rest of us in this rather casual "I'm an A+ college student" get-up.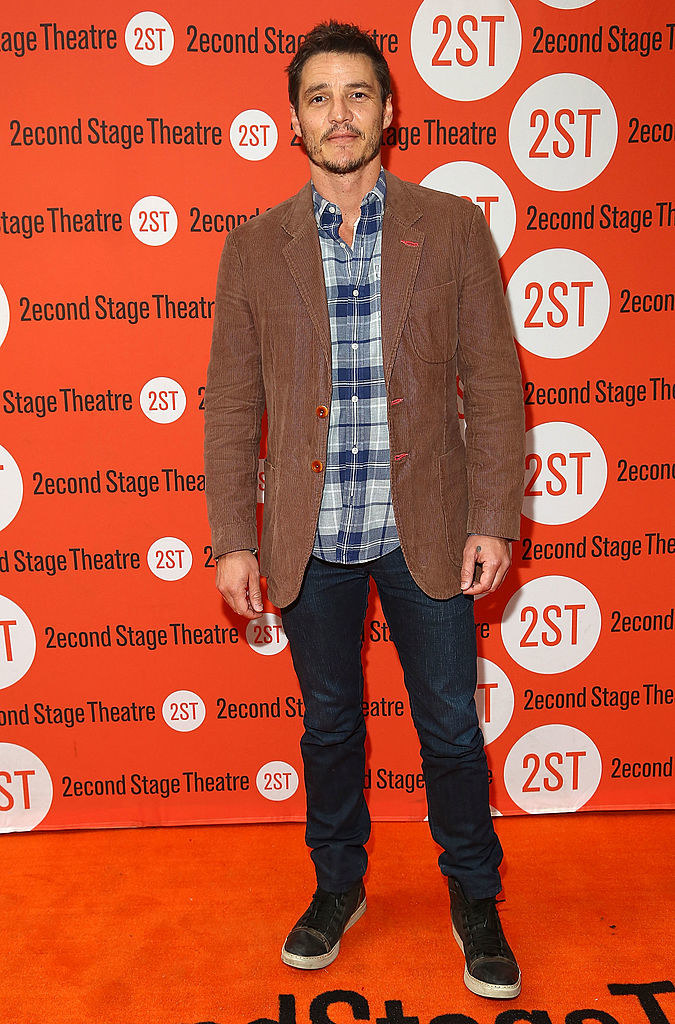 14.

All I have to say about this look at the 2005 New York opening of Absurd Person Singular at the Biltmore Theater is: 🎶 "Because tonight will be the night that I will fall for you OVER AGAIN!" 🎶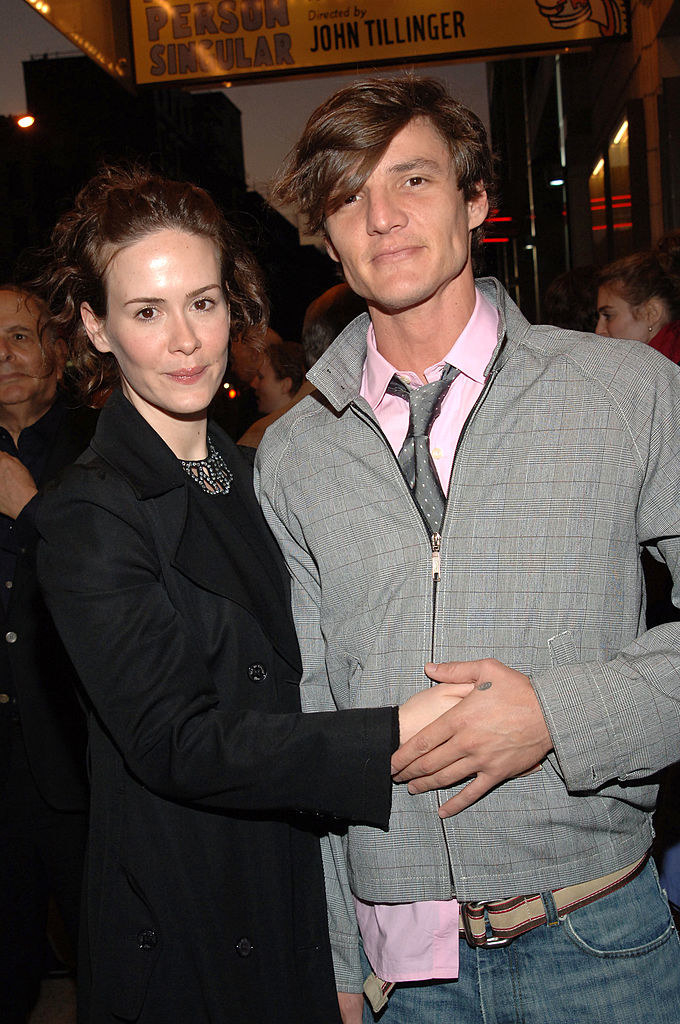 15.

At the Spain premiere for Kingsman: The Golden Circle at the Callao Cinema, Pedro walked the carpet in a Frankenstein-inspired medley of fabrics with this exciting sweater.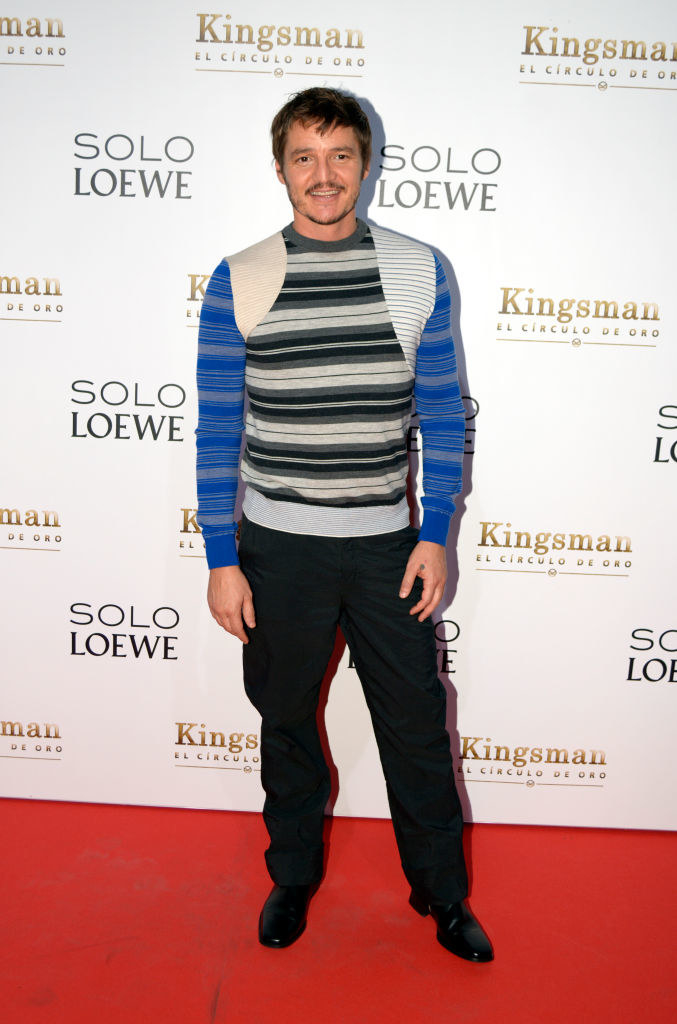 16.

At the New York Season 4 premiere of Game of Thrones, he went traditional with this pinstriped suit and really thick red tie that says to me, "Make Westeros Great Again."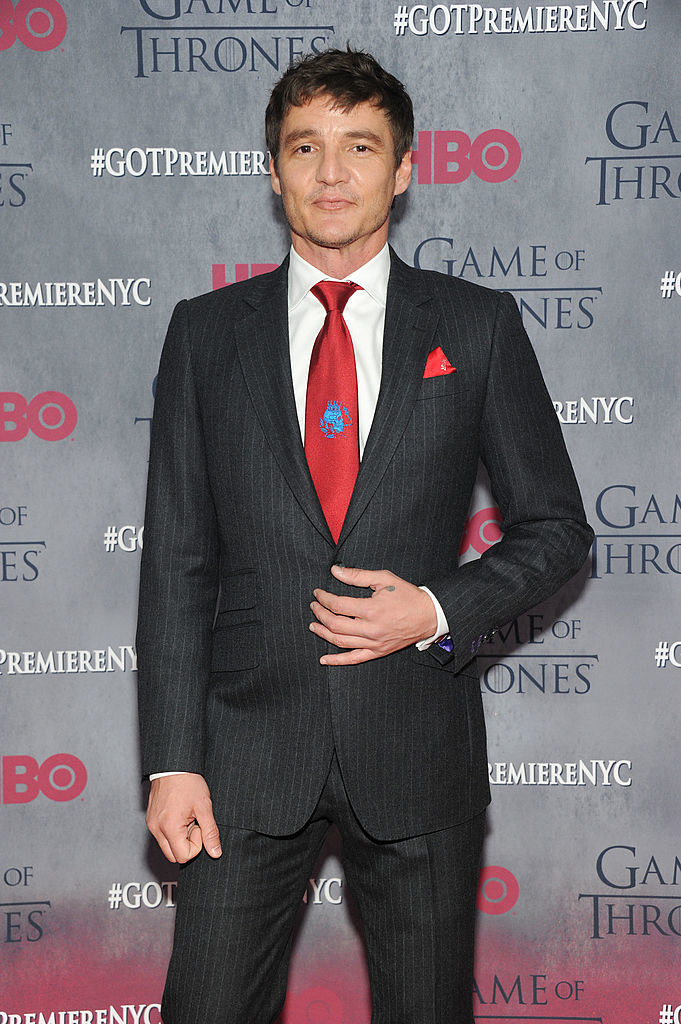 17.

In a throwback at a New York afterparty for the Second Stage Theatre's production of Some Men, Pedro went for a clashing ensemble that screams, "Please stop asking me to park your car!"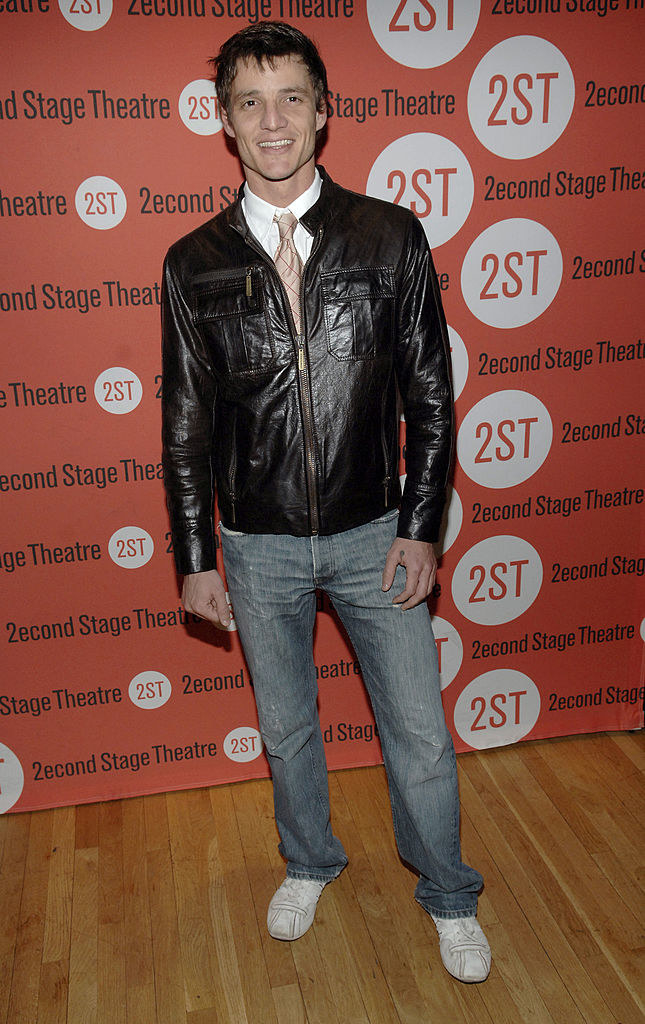 18.

And finally, at the London premiere for Season 3 of The Mandalorian at Piccadilly Circus, he proved he could pull off anything with this knitted cardigan and cherry red slacks.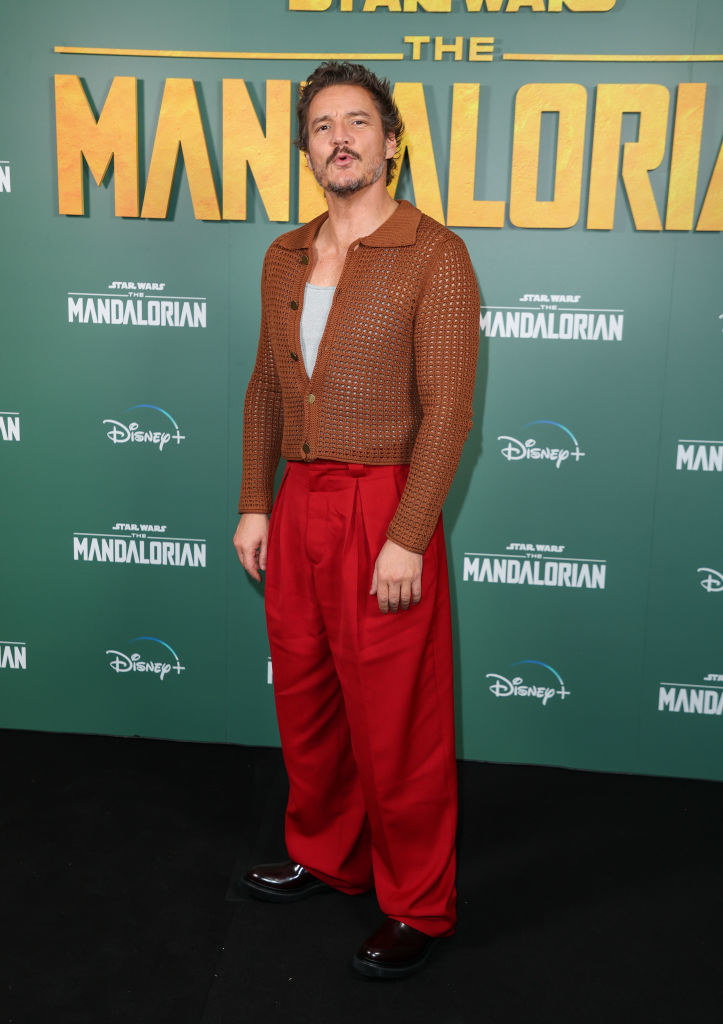 And there you have it. Pedro Pascal is a lot more than just the "internet's daddy." He's a FASHIONABLE internet daddy.
Well, I did my best.