Last night, Taylor Swift kicked off her record-breaking Eras Tour. My gay ass is still recovering from these moments I saw online (I'm going to the Met Life show). But here are 13 moments in particular that I'm obsessed with: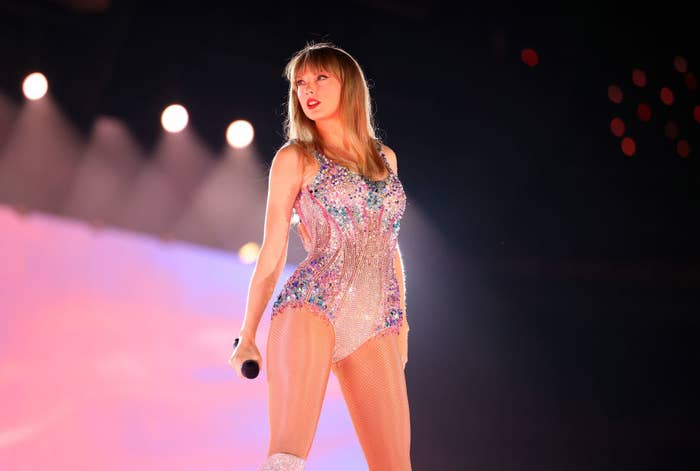 1.

We got the first-ever live performance of "Champagne Problems," which means we finally got to witness Taylor sing "What a shame she's fucked in the head!" with a whole stadium:
2.

Taylor Swift served c*** during her first-ever performance of "Vigilante Shit," straddling a chair. Sources say Sc*oter Braun was heard crying outside the stadium:
3.

When adjusting her outfit, Taylor said, "Just trying to look nice for my guys and gals and non-binary pals."
4.

Taylor did the TikTok "Bejeweled" dance! Invented being cute.
5.

Taylor did this nose-diving thing into the stage, while transitioning from "Tim McGraw" to "Lavender Haze." My brain cannot process this, but I'm obsessed:
6.

FINALLY, Taylor performed "Cruel Summer"!!!! She opened the show with "Miss Americana & The Heartbreak Prince" and "Cruel Summer." Like, I've been begging for this.
7.

Taylor addressed the meme of us all thinking she hates Evermore. "The evermore album, which is an album I absolutely love — despite what some of y'all say on TikTok. Oh, I've seen it. I see all of it."
8.

During "22," Taylor gave her hat to a little girl!
9.

Taylor literally served visuals the entire show. I'm blown the fuck away:
10.

While introducing "Betty," Taylor said the recurrent theme of her songs is teaching men how to apologize. "I just love it. I love to tell them, step by step, 'Here's how simple this is to fix things,'" she said. "I just love the idea of men apologizing."
11.

Taylor brought back "1, 2, 3, let's go bitch" during "Delicate":
12.

Taylor transported herself into a field while performing "Invisible String."
13.

And lastly, I'm obsessed with the fact that Taylor performed for over three hours — a whopping 44 fucking songs! The way she's literally an Olympian:
LONG LIVE TAYLOR SWIFT. Bye.